Preparing Your Winery for a Stress-free Harvest | 10-Step Harvest Checklist

InnoVint Team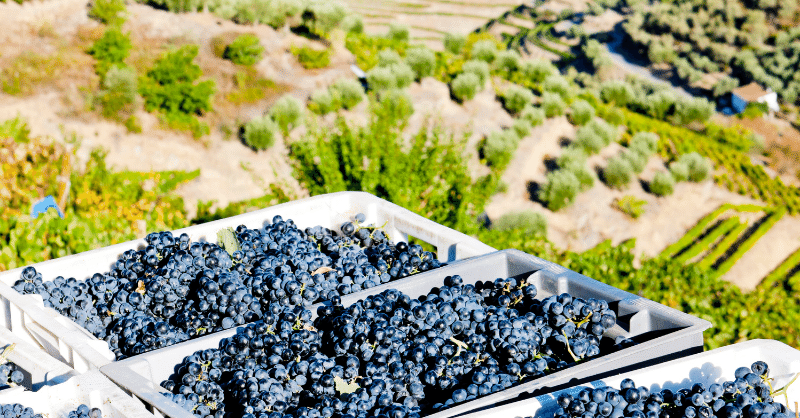 Harvest is a stressful time of year for everyone in and around wine production.
You're getting all your ducks in a row before the grapes arrive, and you want to make sure you are prepared. So how do you make sure you are ready for whatever this year throws your way? How can you ensure that your team is engaged and mistakes are minimized?
The answer, in one word: organization.
Getting organized is a no-brainer, and you might be thinking, "I know I need to be organized!" but the truth is, the more organized you are, the smoother the season will be, leading to low-stress team members ready to take on those long harvest days.
Proper winery management is more than developing a system that works for you. Consider your staff. Will they adopt the way you want things done? Is this a sustainable practice?
A great way to get organized is to pass off the burden of managing day-to-day workflow and harvest data to software tools that work for you and your team. Bring in staff members that will be using the tools to have a say in the selection process. Chances are they will want a vote in choosing a tool that they will be using daily.
This guide will spell out recommendations and tasks for pre-harvest, during, and post-harvest.
*Dates listed in this article apply to wineries in the northern hemisphere.
In this post: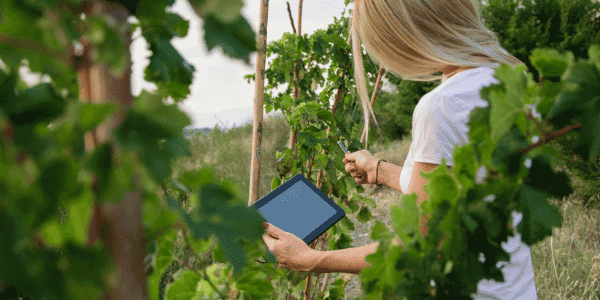 1. Plan your harvest
It goes without saying that planning is critical.
In the months leading up to harvest, you should be reporting on your vineyard maturity data, beginning to schedule harvest dates, and prepping for incoming fruit. Don't wait until the last minute.
Guess what? You need more than spreadsheets to make this entire process as simple as possible.
Ask yourself the following:
Would I benefit from having a more streamlined way of seeing how the grapes are progressing?
Does my entire team have access to real-time data, or do they have to call up a coworker each time they have a question?
If you answered yes to these questions, we recommend that you put some time and resources into researching a vineyard management tool that works well for your team.
You don't need a vineyard management solution with all the bells and whistles but make sure that as you grow (that is the goal, right?), the solution you choose will scale along with you.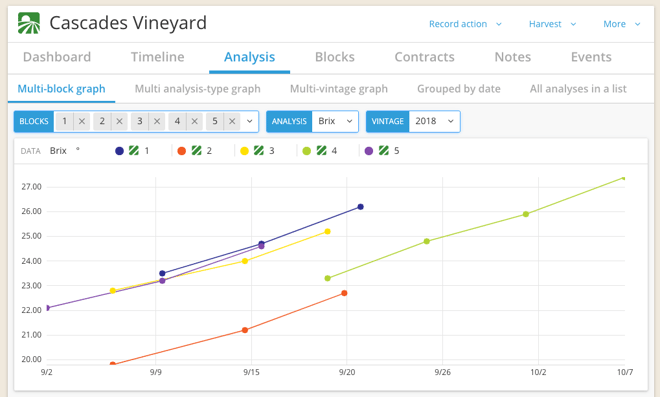 2. Check your costs and budget
You need to know your actual costs to manage your budget. No one benefits from flying blind, and that's exactly what you are doing if you don't have this information available.
With winery management software, you can easily track costs and feed this cost data directly from grape contracts.
The goal is to set fruit costs before harvest and add in other direct and overhead expenses as the season continues. The right tool will do the calculating so you can make the right call at the right time, not to mention that you will actually know if you are profitable or not.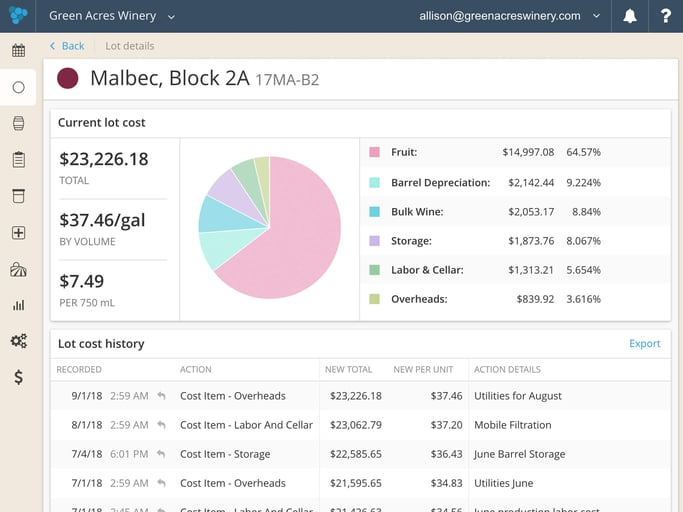 3. Restock
Costs and budgeting are done, so now it's time to restock. Take the time to list what is needed and then place your order early for things like acid, sugar, yeast, and sanitizer. Consider ordering the non-perishables in May/June and everything else by the end of August.
Chances are you're making more adds during harvest than other times of the year so take that into account when planning out your purchases. Your goal should be full traceability of each of your additives, when it was added, who added it, to make sure you are fully compliant if the FDA comes knocking on your door.
New equipment should also be ordered well in advance, and employees should be trained on how to use new equipment well before harvest.
If you have an onsite lab, make sure to place orders to restock all lab equipment.
Tip: ETS lab results will automatically appear in InnoVint. Do you use a different external lab or have an internal lab to run the analysis? You can automatically upload those files as well for direct import.
4. Check, service, and clean all equipment
Ensure your crusher, destemmer, and press are working properly, especially if your equipment hasn't been used since the last harvest. Clean all parts and sanitize now to save time and prevent contamination from dust and other leftover debris.
Tip:

Have phone numbers ready and visible for service technicians if something goes wrong in the middle of harvest.
5. Capacity planning
Bottle before all the harvest chaos begins. You need all the space you can get so that you don't have to stress about capacity when it's time to start bringing in the grapes.
Have a set method for finding all of your empty vessels and determining the work orders planned for them as well as the duration of fermentation. Having a tracking system in place eliminates double booking of tanks.
6. Fruit receipt begins
Harvest has arrived, so it's time to focus on implementing everything you prepared.
Schedule a meeting with all staff members to go over the plan. Your team should have total transparency into the schedule and have access to all tools and necessary reports. Prioritize safety above everything and remind interns about proper procedures since they might not have as much experience as seasoned workers.
Tip: If you have winery management software, see what they recommend for workflow as harvest approaches. InnoVint hosts webinars for harvest-related actions as well as monthly product training for winery team members year-round.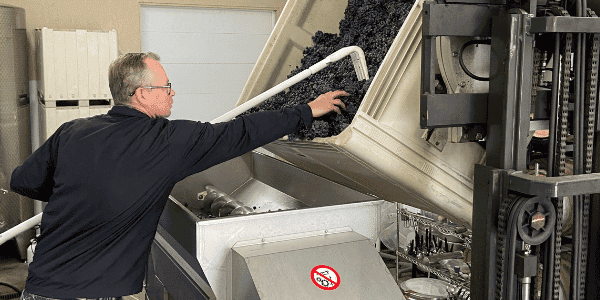 7. Reporting and tracking along the way
Don't trust yourself to remember to jot something down later. You need a system that you will be able to maintain in the slow times as well as the busiest time of the year.
Do you have a way to track all of your fermenting lots? A single clipboard with this information is not good enough.
Tip: InnoVint allows for entering Brix & Temp readings directly into their winery management app. An app like this helps eliminate redundancies and instantly make the data reportable to your entire team—no more wet and stained papers to decipher and enter into your spreadsheet.
8. Take time to relax
We all forget to take care of ourselves but remember that harvest is a marathon and not a sprint. So train like a marathon runner! Just kidding...but be sure to plan out meals ahead of time and get loads of snacks for you and your team.
Ensure that everyone has what they need when they need it, and don't forget to have some fun!
Tip: Consider planning a team dinner and creative ways to relax in between long shifts.
9. Compliance | Don't sweat the TTB 5120.17
You made it this far and are on the final hurdle! The dreaded compliance reporting...wouldn't it be great if you could autofill your TTB 5120.17 report to save time, not to mention stress? Get this out of the way so you can focus on relaxing for the upcoming holidays.
Tip: InnoVint can generate your report at the push of a button. You will never have to worry about manually filing this report out again!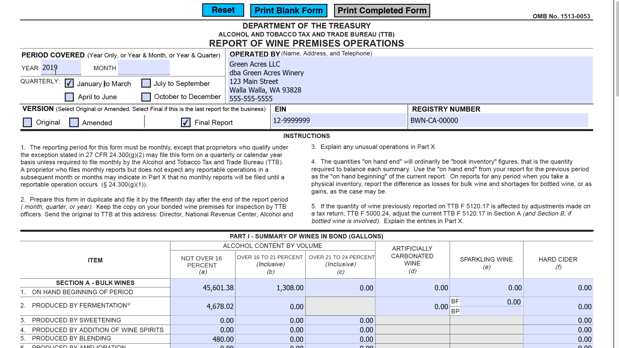 10. Reflection
Sit down and review what went right and wrong this season. Jot down a list and bring in your team to get their feedback as well. Here are a few thoughts and questions to get you started:
What was the process like? What would you change?
Did you make money? If not, how can you improve profitability?
Anticipate issues for the coming year
Brainstorm ways to improve quality
Conclusion
Make sure you are prepared for everything that comes your way this harvest. InnoVint's team of winemakers has worked over 85 harvests, so we know how to get you set up with everything you need and fast!
You can be up and running with our wine production software in a few days, honestly. It's the most effortless onboarding process you'll ever go through.
Happy winemaking!